Contact Us
Contact Jill Hall for a free, no-obligation phone consultation
Jill Hall
Chartered Physiotherapist
MCSP, Grad Dip Phys, PG Dip Vet Phys, ACPAT Cat A
You can reach me via
Mobile: 07866 397569
Telephone: 01423 504392
Email: Jill@vitalvetphysio.com

Fees
Canine and feline physiotherapy: initial assessment £50.00. Follow up session £40.00. Canine treatments are normally 60 minutes long.
Equine Physiotherapy: initial assessment £55.00. Follow up session £45.00. Equine assessments are usually 90 minutes long.
Travel within a 5 mile radius of Harrogate is included within the fee.
Typical Course Length
The length of the course of treatments depends on the problem, on how your animal tolerates the assessment and treatment, and how well the prescribed rehab regime is followed. Usually a canine or feline assessment takes 45-60 minutes and an equine assessment 60-90 minutes. Follow up sessions are usually shorter at 30-45 minutes for cats and dogs and 45-60 minutes for horses.
The length of a course of physiotherapy depends upon the condition being treated. For example a dog with paralysis in both hind limbs following spinal surgery may need up to 6-8 sessions of physiotherapy, whereas a healthy agility dog with performance problems may only require 1-2 sessions. A horse with back pain may need 2-3 sessions of treatment but may also require input from a vet or saddler. Physiotherapy is normally provided for a limited number of sessions to achieve a specific outcome. Some cases may require blocks of several sessions delivered over the year to maintain and manage a long term condition. Competition animals may require pre and post season check- ups to ensure long term health and vitality.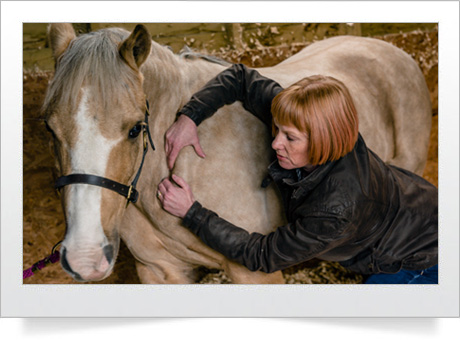 To make a booking
All animals require a formal referral from a vet to see a Chartered Physiotherapist. This is to protect the animal by ensuring that the physiotherapist is made aware of any condition which may affect your animal's treatment or progress. This protection is enshrined in the Veterinary Surgeons Act 1966, and ensures good communication between physiotherapist and vet.

Please contact Jill by completing the form below. After you have had your free initial telephone consultation she will then advise on contacting your vet to discuss your requirements and to obtain the necessary consent.
Many thanks.
Jill Hall
ACPAT Cat A Physiotherapist